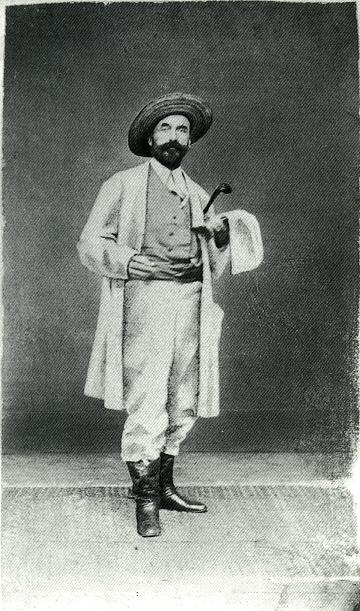 World traveler, adventurer, fighter for assorted causes, womanizer – Frank Buchser was a colorful figure by any standard, not in the least by those of his native Switzerland. As a young artist from Solothurn, he went beyond the paths generally trodden by Swiss artists – France, Germany and Italy – to such countries as Holland, England, and Spain, and further afield to North Africa and America. Thought he spent prolonged periods of time abroad, he never became an expatriate, like so many nineteenth-century Swiss artists, rather, he always remained firmly attached to his native soil.
Though Buchser had had some academic training – he studied at the Academy of St. Luke in Rome for a year; in Paris for nine months; and at the Antwerp Academy for sixteen months – his artistic development probably owed less to those teachers than to the lessons he learned from the Old Masters.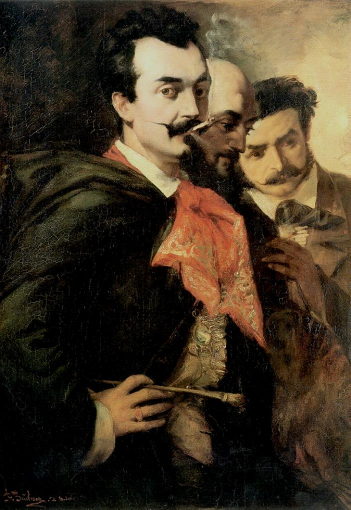 Los Tres Amigos, 1853
Frank Buchser with two friends of Solothurn
Art Museum, St. Gallen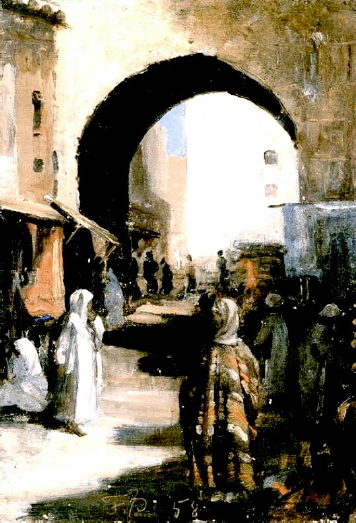 Town Gate in Morocco 1858 (Fes)
Private Collection
Morocco, North AfricaWhen Buchser traveled to Africa in 1857-1858, and again in 1860 and 1880, he followed a well-established tradition.
While many of the first artists to visit Africa, …… joined political missions or military campaigns as recording draughtsmen, from the mid-1830s onward artists increasingly traveled to Egypt, Algeria, or Morocco on their own initiative. Hungry for adventure, exotic scenery and picturesque types, these artists hoped that the substantial cost of the trip to North Africa would, on their return, be compensated by the sale of watercolors, lithographs, paintings, and/or illustrated travelogues.
Orientalism with its repeated themes not only of the harem but also of the slave market made the submissiveness and the eternal availability of woman as sexual object its main theme. Buchser returned repeatedly to the theme of the "love slave" in his paintings. In this time women were still offered for sale as goods in North Africa markets.
Nevertheless, it was Buchser's intention to undermine the image of oriental and black women as beings dominated by human, sexual desires.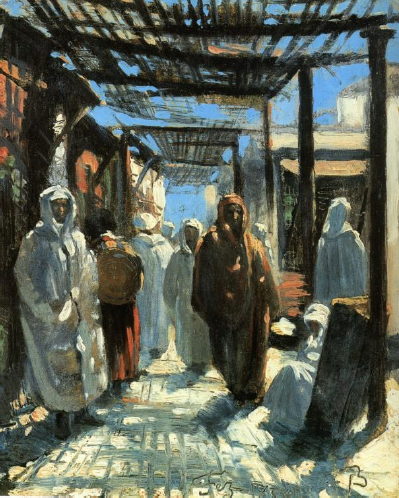 Street in Fes, 1858 (Morocco)
Private Collection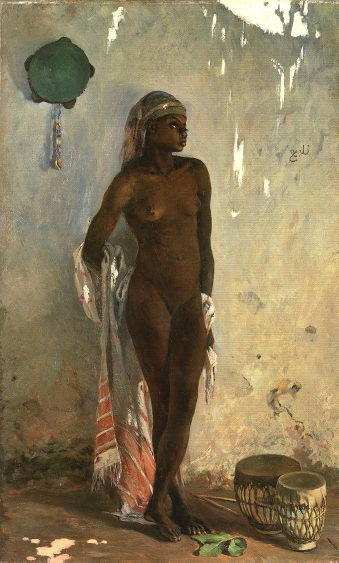 The models Buchser cast as slaves are all dark-skinned. They stand in front of a picturesque, bright wall, upon which time has left its mark. In contrast to this background, the women's bodies glisten with smoothness, and they stand in an aura of seeming timelessness, giving them an air of freshness and virginity. These women are unaware of their own attractiveness. The self-confident way in which they present their naked bodies increases their charm and gives them a hint of invulnerability.(The Arabis letters on the wall behind the slaves mean "to be sold".)
Temptation of the Koran Reader