The Pre-Raphaelite Brotherhood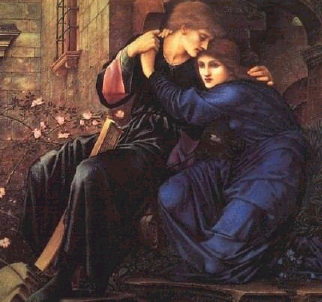 The Pre-Raphaelite Brotherhood (PRB) was a secret society composed of young English artists who — in 1848 — rebelled against the Royal Academy; their ideas about art differed from what was consider to be proper at the time.
Members of the PRB
The Brotherhood was led by Dante Gabriel Rossetti (age 20) and included Sir John Everett Millais (19), as well as William Holman Hunt (21).  Later, other artists followed the PRB style, but they were not part of the brotherhood.  After the Brotherhood was established, the following persons were invited to join, even though the Brotherhood was meant to be secret: Thomas Woolner (sculptor), James Collinson (painter), William Michael Rossetti (writer), and Frederick George Stephens (writer).
Artists Who Followed the PRB Style
Some of those artists who followed the PRB style include: Edward Burne-Jones, William Morris, Frederic Lord Leighton, Ford Madox Brown, and John William Waterhouse. 
The PRB Was Trying to Bring Back Realism
The Pre-Raphaelites held the belief that the best art came before the 16th century Italian painter, Raphael — when art lost its realistic representation of models and reality itself.  The Brotherhood thus rejected the idea that the artist should manipulate an image into his (or her) own ideal vision of beauty; they paid attention to carefully and accurately representing colors and other details within their art.
Some Important Elements of them PRB Art
These painters created their art from medieval tales, bible stories, classical mythology, and nature.  To obtain brilliance and depth, they used bright colors on a white background.
Irony of the PRB Art
The irony of the PRB art involves the fact that these artists — in trying to produce realism — actually created art with a surreal quality.  Also, while they looked at Academy as arrogant, they too developed a kind of arrogance of their own —

Edward Burne-Jones
(1833-1898)

 

'I mean by a picture, a beautiful romantic dream of something that never was, never will be, in a light better than any light that ever shone, in a land no one can define or remember — only desire."

Edward Burne-Jones  
Edward Burne-Jones (1833-1898) was born in Birmingham and had a somewhat sad and solitary childhood. His mother died a few days after his birth, no other children having survived, and he was brought up largely by his bible-wielding nanny.
Thrown back on his own resources, he lived within his own imaginative world, feeding on tales from myth and legend and drawing pictures of what came into his head rather than what was before him.
In his teens he devoured Romantic poetry, then became deeply interested in religion and decided to aim for the Church. In 1852 he went up to Oxford, and there met William Morris with whom he shared a love of medievalism and a hatred of the industrial age.
Recognizing in the work of D.G. Rosetti a kindred spirit and potential guide, they both had second thoughts about the Church and determined to meet their hero.
Rosetti was no disappointment, and helped them develop their talents. In London it was soon apparent that the young friends had different priorities…… for Burne-Jones, escape from its ugliness into a beautiful past, peopled by melancholy knights and pale, unattainable women.
Burne-Jones was largely self-taught as a painter, and he learned much of his art in the galleries of Italy. From the fifteenth-century masters he derived his predilection for gem-like colours and sumptuous decoration, and the Greek, Christian and Arthurian traditions provided the subject-matter for his idyllic fantasies.
Burne-Jones never claimed to be facing reality – in fact he specifically denied it – but the sheer beauty of his alternative world is beyond dispute.
The Beguiling of Merlin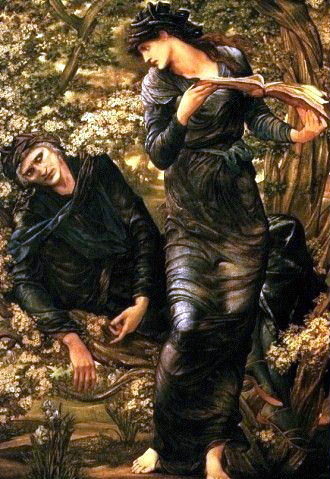 The Beguiling of Merlin protrays a provocative tale from the Arthurian legend. Nimuë, the Lady of the Lake, has pursued Camelot's wizard into the wood, hoping to learn his secret spells. Lulled into submission by her promise to satisfy his every desire, Merlin relinquishes his ancient book of enchantment. Nimuë then betrays him, using his own magic to drain his powers and imprison him for eternity in the flowering branches of the hawthorn tree. With her tall, twisting form, Nimuë embodies the fatal woman. She relishes her dominance over her languid victim and vibrates with the strength of her spell. As passionate and dynamic as The Mirror of Venus is chaste and tranquil, The Beguiling of Merlin exhibits Burne-Jones dramatic power.
Pygmalion and the Image:
The Heart Desires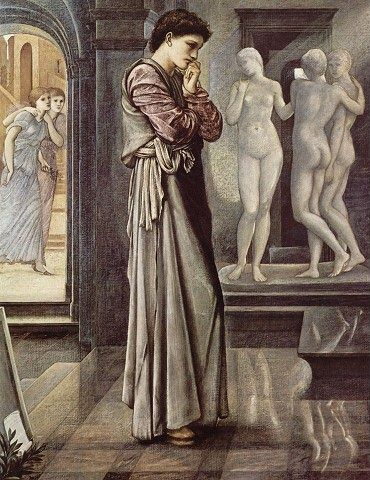 A pensive Pygmalion in his studio
Pygmalion and the Image:
The Soul Attains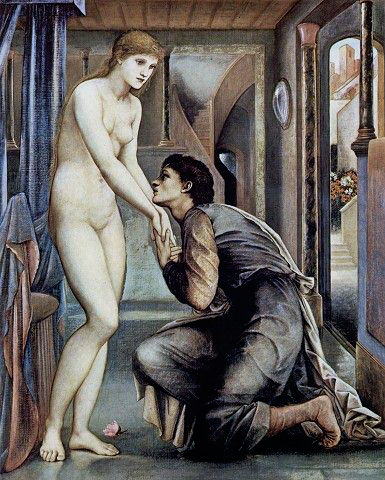 The Soul Attains shows Pygmalion dropping to his knees and grasping the hands of Galatea, his statue come to life.
The Days of Creation
| | | |
| --- | --- | --- |
| | | |
| First Day | Third Day | Fourth Day |