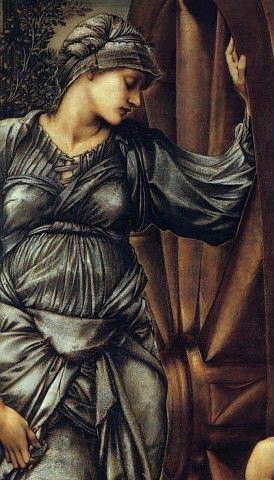 Burne-Jones depicts Forune as a grand, quietly dignified figure, standing with her head bowed and her left hand lightly resting on a rough wooden wheel. In characterizing Fortune this way, Burne-Jones joined a venerable tradition. With origins in classical antiquity, the image of Fortune's Wheel – by turns toppling kings and raising beggars – endured throughout the Middle Ages in diverse sources ranging from the Tarot to the Hortus Deliciarum of Gerrad of Landesberg to the Arhurian
King Cophetua and the Beggar Maid
"Not only the finest work Mr Burne-Jones has ever painted but one of the finest pictures ever painted by an Englishman" (Times, London)
Throughout his life, Burne-Jones envisioned the medieval knight as the utmost exemplar of high human endeavor. Whether on a quest, like Sir Galahad, or on an adventure, like St. George, the knight embodied a man's singular power to challenge fortune and change destiny.
Although Cophetua was an African king, Burne-Jones portrayed him as a medieval knight, rescuing a damsel from her dire fate. Ever romantic, and always believing in the power of honorable intentions, Burne-Jones used the image of the knight in armor to symbolize what he saw as the best of masculine spirit: bravery, dedication, and heroism.
The following Tennyson poem inspired Burne-Jones to paint King Cophetua and the Beggar Maid 
The Beggar Maid
Her arms across her breast she laid;
She was more fair than words can say:
Bare-footed came the beggar maid
Before the king Cophetua.
In robe and crown the king stept down,
To meet and greet her on her way;
'It is no wonder,' said the lords,
'She is more beautiful than day.'
As shines the moon in clouded skies,
She in her poor attire was seen:
One praised her ancles, one her eyes,
One her dark hair and lovesome mien.
So sweet a face, such angel grace,
In all that land had never been:
Cophetua sware a royal oath:
'This beggar maid shall be my queen!'
Lord Tennyson
Princess Sabra led to the Dragon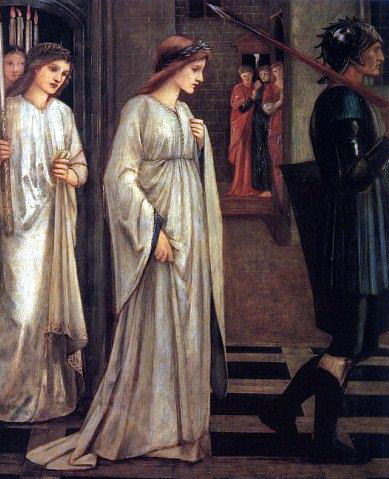 The Sleep of Arthur in Avalon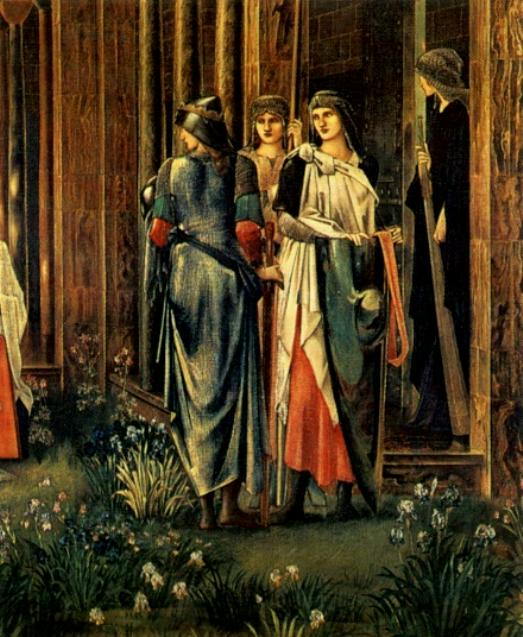 This part of the picture shows noble women who bear Arthur's arms and his shield.

Mary Zambaco made herself a constant presence in Burne-Jones's studio, and soon he became infatuated. While rumors — rather than documents — testify to the nature of their relationship, the pervasive appearance of this distinctively beautiful woman in Burne-Jones's art of the late 1860 demonstrates his passionate obsession with her clearly enough.
Drawing of Mary Zambaco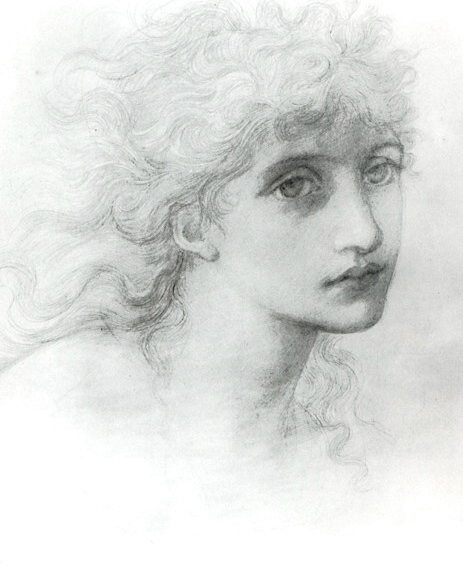 A series of sensitive drawings of Mary Zambaco's face suggest that Burne-Jones may have continued seeing her in his studio. The close observation displayed in the sketches that his passion – and his obsession had not yet waned.The mournful cast of her features, the general malaise reflected in her expressions, and the yearning depth of her gaze all mark the torment of unfulfilled desire.
Portraits of Burne-Jones